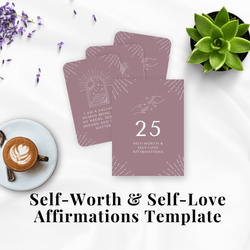 Entrepreneurial Edge Shop
Self-Worth & Self-Love Affirmations Template
UNLOCK YOUR INNER STRENGTH AND NURTURE SELF-LOVE WITH OUR COMPREHENSIVE COLLECTION OF SELF-WORTH AFFIRMATIONS!
Transform your mindset, boost your self-confidence and cultivate self-love with our comprehensive Self-worth & Self-love Affirmations Template. Our template helps you create inspiring visuals that capture the feelings and emotions of your audience. Whether you are an entrepreneur looking to inspire yourself or a business owner trying to reach out to potential customers, this product is for you.
Ready to unlock your inner strength and cultivate self-love? Try our Self-worth & Self-love Affirmations Template today!
WHAT YOU'LL LEARN...

💟 Comprehensive collection of affirmations to boost self-confidence and self-worth
💟 Unique set of visuals that capture the feelings and emotions of your audience
💟 Full editable template in Canva for easy customization
💟 Professional design with handpicked fonts and color palettes to make your content stand out
💟 Customizable affirmation cards to add a personalized touch
💟 High-resolution images for stunning visuals
💟 Easy drag and drop functionality to quickly create visually appealing affirmations
💟 Pre-designed graphics and elements for quick customization
💟 Unique design to make sure your message stands out from the crowd.

WHAT YOU'LL RECEIVE...

💟 Self-Worth & Self-Love Affirmations Template access - PDF format
Can I edit the color palette of these templates?
Absolutely! We have made it easy for you by providing all of our templates in Canva so that you can customize them with your own unique brand colors.
Is Canva Pro required to access this template?
No, you can create a free Canva account and use this template to your heart's content.

This is a digital product. Nothing physical will ship.
Please note: The Canva templates are designed for you to use to promote your own digital product. You may not use these templates to resell as templates of your own. Refer to Canva for their terms and policies.