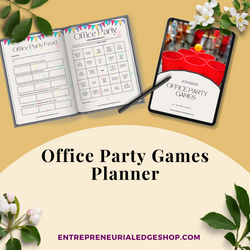 Entrepreneurial Edge Shop
Office Party Games Planner
UNLEASH THE MAGIC OF CAMARADERIE WITH OUR OFFICE PARTY GAMES PLANNER
Unleash the magic of camaraderie with our Office Party Games Planner - your ultimate wingman in transforming dull office parties into thrilling spectacles of fun. It's the secret sauce behind every memorable office bash, sprinkling a dash of excitement and a sprinkle of hilarity to cook up a feast of unforgettable moments.
Don't let your office shindig be a drab, grab the Office Party Games Planner today and watch as we transform water cooler talk into waterfall of laughter!
WHAT YOU'LL LEARN...
💟 Redefine Fun: Unearth a treasure trove of party games that are so much more than just "Pin the Tie on the Boss". This planner will teach you to host parties that will become the new gold standard of fun in your office.
💟 Spark Creativity: Discover how to get those creative juices flowing even outside brainstorming sessions. Learn how to engage every team member creatively, turning your office party into a hive of imaginative buzz.
💟 Master the Art of Engagement: Our planner will instruct on maximizing participation. No more wallflowers at your parties, just a crowd of engaged, enthusiastic colleagues.
💟 Boost Morale: By fostering a fun and inclusive environment, you'll learn how office parties can be a powerful tool to boost employee morale and motivation.
💟 Laugh more, Stress less: Master the delicate art of humor in an office setting. Because who said office parties can't be a laughter therapy session in disguise?
WHAT YOU'LL RECEIVE…
💟 Office Party Games Template - PDF format
This is a digital product. Nothing physical will ship.