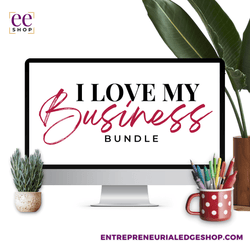 Entrepreneurial Edge Shop
I Love My Business Bundle
Make Visibility, Leads & Success Happen with I Love My Business Bundle - Unlock 95% Savings Now

Are you ready to take your business visibility, leads, and success to the next level?Introducing the I Love My Business Bundle! This bundle is specially created to help small business owners increase their visibility, build their customer base and get paid with their products and services. Get access to 7 incredible resources and trainings at 95% off the regular price, for a single payment of just $67!

WHAT YOU'LL LEARN...
💟 Create an irresistible digital business card and media exposure plan

💟 Develop a wealthy mindset with daily prompts

💟 Grow your Instagram following with beautiful templates

💟 Attract clients and customers with your personal story

WHAT YOU'LL RECEIVE...
💟 Media Exposure Masterclass: Ready to be seen, be heard, and get paid with your products and services? Get access to the masterclass now!

💟 Digital Business Card Template: Go digital and elevate your personal and business branding with this template

💟 Steps To A Wealthy Mindset Journal: Daily prompts and thoughts to help you focus on building wealth rather than spending it.

💟 Instagram Ready Templates: Expertly designed template to help you grow your social media following and increase your engagement

💟 42 Lead Magnet Instagram Templates: Build, nurture, and grow your email list faster than ever before with this huge mix-and-match, fully editable, Canva template and image kit.

💟 Effective Instagram Link In Bio & Landing Page Templates: This landing page template works similar to Linktree but it is MUCH prettier, more unique, and offers you so many customization options.

💟 SHARE YOUR STORY: How To Attract Clients & Customers With Your Personal Story: Storytelling Is Not About YOU… Are you ready to WOW new clients/customers with your personal story instead of cliché marketing tactics?
Your story will show your clients/customers that you had a similar problem and you've found a way to fix it. You will showcase your determination and perseverance, which will convince your community that you can help THEM achieve similar results.

The Storytelling mini Bundle: LIVE Training, Ebook, Journal, Workbook

This is a digital product. Nothing physical will ship.