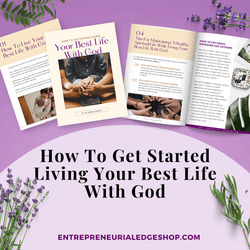 Entrepreneurial Edge Shop
How To Get Started Living Your Best Life With God
ARE YOU READY TO EMBRACE THE LIFE GOD HAS PLANNED FOR YOU?

Discover the joy, peace and purpose that comes with living your best life with God. With this guide, learn how to make a positive impact on the lives of those around you through meaningful spiritual practices.

Unlock all the possibilities that come with living your best life with God - start now!"

WHAT YOU'LL LEARN...
💟 Develop a deeper relationship with God through meaningful prayer and Bible study

💟 Understand how to navigate life's challenges and obstacles while still living according to God's will

💟 Learn practical strategies for incorporating spiritual practices into your daily life

💟 Discover the incredible power of worship and fellowship in community

💟 Embark on a journey of self-discovery and personal growth through spiritual discipleship.

💟 Find joy, peace, and purpose in living your best life with God!

WHAT YOU'LL RECEIVE...

💟 How To Get Started Living Your Best Life With God - PDF format

This is a digital product. Nothing physical will ship.