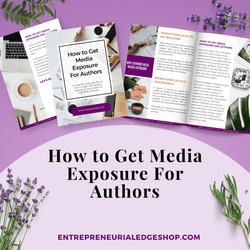 Entrepreneurial Edge Shop
How to Get Media Exposure For Authors
THE ESSENTIAL GUIDE TO GAINING MEDIA EXPOSURE AND SELLING MORE BOOKS!

Are you an author looking to get more media exposure to help sell your book? This step-by-step guide will teach you exactly how to create a press kit, pitch your story and follow up with the media so you can start getting the attention and readership that your work deserves!

Get the Media Exposure You Need to Sell More Books - A Step-by-Step Guide for Authors!

WHAT YOU'LL LEARN...
💟 Get insider tips on how to create a press kit that will get you noticed by the media

💟 Learn how to craft an effective pitch that captures the attention of the media

💟 Discover ways to follow up and make sure your story is heard

💟 Increase your chances of getting more book sales through targeted media exposure

WHAT YOU'LL RECEIVE...

💟 How to Get Media Exposure For Authors - PDF format

This is a digital product. Nothing physical will ship.