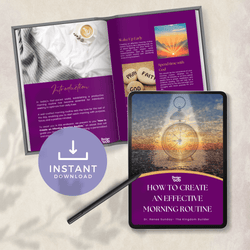 Entrepreneurial Edge Shop
How to Create an Effective Morning Routine
MASTER YOUR MORNINGS, MASTER YOUR LIFE!
Welcome to your morning masterclass, where "How to Create an Effective Morning Routine" serves as your delightful guide to seizing the day. It's less about cracking the dawn and more about crafting a dawn that cracks a winning day for you! 
So, are you ready to swap your frantic, caffeine-fueled mornings for tranquil, purpose-driven starts? Grab your copy of "How to Create an Effective Morning Routine" today! 
WHAT YOU'LL LEARN...
💟 Transform your Alarm into an Opportunity Clock: Unravel the secret to switching from groaning at the sound of your alarm to greeting the dawn with enthusiasm and vigor. 
💟 Befriend the Early Bird: Learn how to coax your inner night owl into an early bird persona. Who knows, you might find the worm quite appealing!
💟 The Breakfast Club: Discover the art of breakfast – no, we're not talking about sugar-loaded cereals, but the kind of morning fuel that will power you through your day like a champ.
💟 Juggling 101: Get the lowdown on balancing prayer, exercise, and planning without feeling like a circus performer. 
💟 Embrace your Inner Zen: Navigate the world of self-care and mindfulness without needing to become a monk in the Himalayas. It's about serenity, not solitude!
WHAT YOU'LL RECEIVE...
💟 How to Create an Effective Morning Routine ebook - PDF format
This is a digital product. Nothing physical will ship.