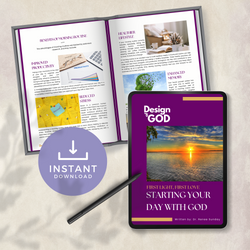 Entrepreneurial Edge Shop
First Light, First Love: Starting Your Day with God
START YOUR DAY THE HEAVENLY WAY, WITH 'FIRST LIGHT, FIRST LOVE: STARTING YOUR DAY WITH GOD' - IT'S THE SPIRITUAL EQUIVALENT OF AN ESPRESSO SHOT WITH ETERNAL BENEFITS!
So, are you ready to become a morning person? A mover and shaker who greets the day with joy instead of groaning? How about starting your day with a swoosh of spiritual serenity? If your answer is a resounding "YES!", then it's time to grab a copy of 'First Light, First Love: Starting Your Day with God'. With its practical advice and divine inspiration, it's more effective than an alarm clock at getting you out of bed and more satisfying than the strongest cup of joe. Consider it your personal sunrise, ushering in a day filled with purpose, productivity, and peace. 
Don't wait for the rooster to crow - join the early bird club and let your faith take flight with 'First Light, First Love'.
WHAT YOU'LL LEARN...
💟 Learn the art of turning the groggy stumble out of bed into a graceful dance, infused with spiritual serenity and purpose. We're talking mornings so smooth, even your coffee will be jealous.
💟 Discover how to weave prayer, worship, and scripture reading into your morning routine without having to wake up at unholy hours.
💟 Uncover the secret to maintaining a consistent morning routine that feels more like a meet-and-greet with God, and less like a marathon.
💟 Get tips on how to make your faith the 'early bird' that catches the 'worm' of a productive, balanced, and fulfilling day.
💟 Find out how a God-centered morning routine can double as a spiritual caffeine jolt, charging your day with more energy than a room full of motivational speakers.
WHAT YOU'LL RECEIVE...
💟 First Light, First Love: Starting Your Day with God - PDF format
This is a digital product. Nothing physical will ship.