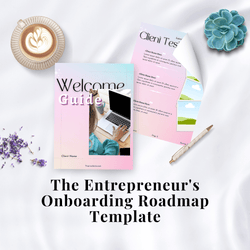 Entrepreneurial Edge Shop
Entrepreneur's Onboarding Roadmap Template
READY, SET, SUCCEED - WITH THE ENTREPRENEUR'S ONBOARDING ROADMAP!

The Entrepreneur's Onboarding Roadmap template is your one-stop shop for everything you need to get set up as a successful entrepreneur. From project timelines to tools and resources, invoices and policies - this roadmap will guide you through the entire process with ease!

Stop procrastinating and start growing your business! Get the Entrepreneur's Onboarding Roadmap template today - and get ready to reap the rewards of success!

WHAT YOU'LL LEARN...

💟 Get an overview of the entire onboarding process

💟 Learn how to create a project timeline that works for you

💟 Gain access to essential tools and resources

💟 Discover helpful tips on invoicing and policies

💟 Understand the terms and conditions that come with the roadmap template.


WHAT YOU'LL RECEIVE...

💟 Entrepreneur's Onboarding Roadmap Template - PDF format


Can I edit the color palette of these templates?

Absolutely! We have made it easy for you by providing all of our templates in Canva so that you can customize them with your own unique brand colors.

Is Canva Pro required to access this template?

No, you can create a free Canva account and use this template to your heart's content.

This is a digital product. Nothing physical will ship.

Please note: The Canva templates are designed for you to use to promote your own digital product. You may not use these templates to resell as templates of your own. Refer to Canva for their terms and policies.