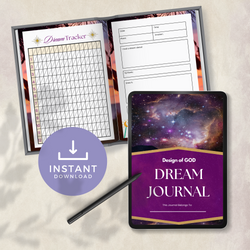 Entrepreneurial Edge Shop
Design of God Dream Journal
UNLEASH YOUR INNER DREAM DETECTIVE WITH THE DESIGN OF GOD DREAM JOURNAL, YOUR NIGHTLY SIDEKICK IN DECIPHERING THE PECULIAR PAGEANTRY OF YOUR SUBCONSCIOUS. 
Are you tired of forgetting your dreams as soon as you wake up? Want to decode what that unicorn in your dream last night might signify? Then, it's time to stop dreaming about the solution and start living it! The Design of God Dream Journal is the perfect companion for your nighttime adventures. This ain't just a journal, folks! It's your personal dream tracker, interpreter, and even a companion for your sleep dreams.
So why wait? Dive into the world of dreams like never before, log your dreams and uncover their meaning. It's time to dream BIG with the Design of God Dream Journal.
WHAT YOU'LL LEARN...
💟 Get ready to become the Sherlock of your own sleep world! With our dream journal, you'll learn the art of dream interpretation, digging deep into the symbols and emotions they present - because let's face it, that flying pig must mean something, right?
💟  Dreaming too big? We got you covered! The journal will help you track and document even your most grandiose dreams, turning that chaotic dream realm into a neatly catalogued library of nocturnal narratives. 
💟 Say goodbye to those fleeting dream memories. With our journal, you'll learn effective techniques to remember your dreams better. You'll no longer have to ask yourself, "What was that amazing dream about again?"
💟 Ever wondered why recurring dreams happen? Our journal will serve as your guide in understanding the repetitive patterns of your dreams, helping you unravel the hidden messages from your subconscious. 
💟 And lastly, get set to discover a whole new you! By exploring the symbols in your dream list, you'll gain insights about your deepest desires, fears, and aspects of your personality you never knew existed. Talk about a nocturnal revelation!
WHAT YOU'LL RECEIVE...
💟 Design of God Dream Journal- PDF format
This is a digital product. Nothing physical will ship.