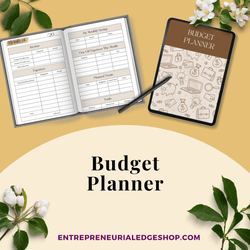 Entrepreneurial Edge Shop
Budget Planner
STAY ON TRACK AND REAP THE REWARDS WITH THE BUDGET PLANNER!

Stop wondering where your money is going and start taking control with the Budget Planner! It's an easy-to-use tool that helps you make plans for a brighter financial future - so you can turn dreams into reality.

Get ready to take control of your finances with the Budget Planner - it'll help you stay ahead, so you can enjoy your rewards more!

WHAT YOU'LL LEARN...

💟 Create a budget that fits your lifestyle and goals

💟 Monitor your spending so you stay on track

💟 See where you can save and make smarter financial decisions

💟 Improve your credit score with sound financial planning

💟 Enjoy the rewards of being in control of your finances!

WHAT YOU'LL RECEIVE...

💟 Budget Planner - PDF format

This is a digital product. Nothing physical will ship.