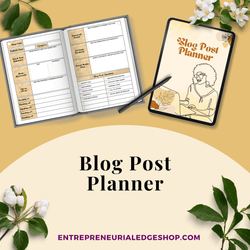 Entrepreneurial Edge Shop
Blog Post Planner
READY, SET, PLAN! GET ORGANIZED AND CREATE A KILLER BLOG POST WITH OUR EASY-TO-USE BLOG POST PLANNER

Make your blog post planning a breeze with our Blog Post Planner! Get organized quickly and create an amazing blog post in no time. Don't wait - let's get started on crafting the perfect blog post today!

Let's get started on organizing and planning your next great blog post - it'll be a breeze with our easy-to-use Blog Post Planner!

WHAT YOU'LL LEARN...

💟 Get clear and organized on the topic of your blog post

💟 Brainstorm ideas quickly and easily with our simple prompts

💟 Map out a structure for your post in minutes

💟 Streamline the writing process by filling in parts of your blog as you go

💟 Have confidence that every post you make will be amazing!

WHAT YOU'LL RECEIVE...

💟 Blog Post Planner - PDF format

This is a digital product. Nothing physical will ship.