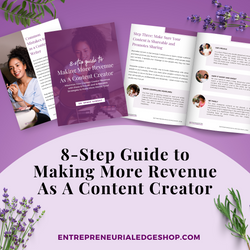 Entrepreneurial Edge Shop
8-Step Guide to Making More Revenue As A Content Creator
UNLOCK YOUR MAXIMUM EARNING POTENTIAL WITH OUR 8-STEP GUIDE!
Our 8-Step Guide to Making More Revenue As A Content Creator will help you unlock the secrets to earning more money as a content creator. Packed with strategies, tips, and advice, this comprehensive ebook will show you how to maximize your potential and start making more money today!
Stop Being a Content Creator, Start Making Money - Learn How in Our 8-Step Guide
WHAT YOU'LL LEARN...

💟 Comprehensive guide outlining actionable steps to help content creators monetize their skills and knowledge

💟 Strategies for offering paid subscriptions or exclusive content

💟 Advice on selling merchandise related to your brand

💟 Tips on creating a membership site or online course

💟 Information about investing in the right tools

💟 Suggestions for using advertising and affiliate marketing to your advantage

💟 Insight on creating multiple streams of income

💟 Strategies for tracking performance, analyzing data, and refining your approach

WHAT YOU'LL RECEIVE...

💟 8-Step Guide to Making More Revenue As A Content Creator - PDF format

This is a digital product. Nothing physical will ship.


Yes, A Comprehensive Roadmap
I must say that the 8-STEP GUIDE TO MAKING MORE REVENUE AS A CONTENT CREATOR is a remarkable resource that can elevate your content creation game and take your revenue to new heights.
This guide is a thought-provoking, comprehensive roadmap that provides invaluable insights into the world of content creation. It challenges you to think critically about your content, your audience, and your revenue streams, pushing you to step out of your comfort zone and explore new possibilities.
Whether you're a beginner or a seasoned content creator, this guide can help you identify and capitalize on your strengths while addressing your weaknesses. It is a thought-provoking resource that will encourage you to ask the tough questions, experiment with new ideas, and implement practical strategies to monetize your content effectively.
If you're serious about making a living as a content creator, this guide is a must-have in your arsenal. It will inspire you, challenge you, and equip you with the tools you need to take your content creation and revenue to the next level. So, take a deep breath, grab a pen, and get ready to unlock your full potential as a content creator.