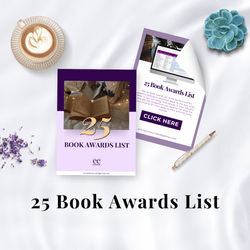 Entrepreneurial Edge Shop
25 Book Awards List
READY TO WIN SOME AWARDS? GRAB THE 25 BOOK AWARD LIST AND START YOUR AWARD-WINNING JOURNEY TODAY!

Make your book stand out from the rest with our 25 Book Award List! This awesome spreadsheet list contains all the details you need to track down awards in your industry and apply for them. So, are you ready to become an award-winning author?

Get the 25 Book Awards List and start your journey today!

WHAT YOU'LL LEARN...

💟 Discover 25 book awards in different industries

💟 Gain insight into what each award entails

💟 Unlock tips and tricks to boost your chances of winning

💟 Stay up to date on the application process and deadlines

💟 Learn how to maximize your recognition and get the most out of your awards

💟 Get the inside scoop on what it takes to be a successful awardee!

WHAT YOU'LL RECEIVE...

💟 25 Book Awards List access- PDF format

This is a digital product. Nothing physical will ship.