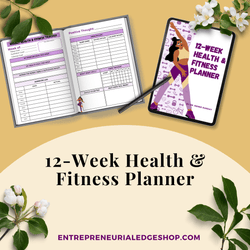 Entrepreneurial Edge Shop
12-Week Health & Fitness Planner
GET READY TO MAKE THE NEXT 12 WEEKS YOUR HEALTHIEST YET WITH THIS HANDY FITNESS PLANNER!

Ready to take your health and fitness to the next level? This 12-week Health & Fitness Planner is the perfect tool to help you stay organized and motivated as you work towards your goals. With a variety of weekly trackers and exercise plans, it's never been easier to make lasting progress in your health journey!

Start Achieving your Health Goals Now - Get Started with the 12-Week Health &Fitness Planner!

WHAT YOU'LL LEARN...
💟 Start by setting achievable health and fitness goals for the 12-week period.

💟 Take time each week to review your progress, and track any changes on the weekly health and fitness tracker.

💟 Use the daily plan & tracker page to keep yourself organized and motivated all through the week.

💟 Use the exercise plan page to stay in shape with a variety of different exercises tailored to your needs.

💟 Finally, use the health log to track any changes in your physical or mental wellbeing throughout the 12-week program.

Happy Planning! 🎉

WHAT YOU'LL RECEIVE...

💟 12-Week Health & Fitness Planner - PDF format

This is a digital product. Nothing physical will ship.