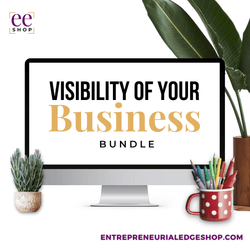 Entrepreneurial Edge Shop
Visibility Of Your Business Bundle
UNLOCK YOUR POTENTIAL AND GROW YOUR BUSINESS TODAY!

Grow your business, increase visibility and get paid with the Visibility Of Your Business Bundle! All the tools you need in one place: 15 trainings including podcasts interview checklists, goal journals, and masterclasses on being a featured guest. Get it now for 95% off - only $199!

Reach Your Visibility Goals with the Ultimate Business Bundle - 95% Off Now!

WHAT YOU'LL LEARN...
💟 Increase visibility for your business

💟 Be featured on podcasts and media outlets

💟 Create content that resonates with your audience

💟 Plan outsource processes effectively

💟 Boost your mindset with daily affirmations and goal journals

💟 Get clarity and advice with a 15-minute session with Dr. Renee Sunday

WHAT YOU'LL RECEIVE...

💟 Media Exposure For Your Business Masterclass: Ready to be seen, be heard, and get paid with your products and services? Get access to the masterclass now!

💟 Grow Your Business By Being Featured On Podcasts: The blueprint to being featured on podcasts.

💟 Boost Your Exposure And Build Credibility With Podcast Interviews: How to make the most out of podcasting and build your brand name.

💟 Checklist on How To Succeed In The 7 Categories Of Life: Stay up on the jargon of the podcasting industry.

💟 Reaching My Goals Journal: Keep track of your goals and stay motivated to make all things happen.

💟 One Page Business Plan Outline Checklist: Make sure you have all the information needed in your business plan through this checklist.

💟 Be Seen, Heard & Get Paid - Be A Featured Guest Masterclass: How to prepare on a podcast interview and all the things needed to be the best podcasting guest.

💟 Outsourcing Planner: Planning to outsource some of your tasks? Make it organize for a better hiring process.

💟 Daily Affirmations for Entrepreneurs: Give yourself some mindset boost every day through this daily affirmation journal.

💟 15-Minute Clarity Session with Dr. Renee Sunday: Whether you need some advice or just someone to point you in the right direction, this clarity session will help you a lot.

💟 7 Steps to Get Featured in Podcast Checklist: Want to be featured on hot podcasts. Here's the checklist to help you.

💟 Get Interviewed More Checklist: This checklist will help you to ensure you don't forget any steps to making yourself look tremendous and reach out to more platforms and movers and shakers with confidence.

💟 Featured Guest Checklist: How to invite guests that will fit perfectly into your platform and audience.

💟 Creating Guest Content Checklist: Creating guest content is one of the ways you can spread brand awareness, getting new eyes on your products and services.

This is a digital product. Nothing physical will ship.

"I recently purchased the Visibility of Your Business Bundle from Entrepreneurial Edge and I am extremely satisfied with my investment. The daily affirmations and goal journals helped me to boost my mindset and stay motivated, while the outsourcing planner and clarity session with Dr. Renee Sunday helped me to plan and execute my strategies more effectively. The bundle is an excellent value and I would highly recommend it to any business owner looking to increase visibility and grow their business."