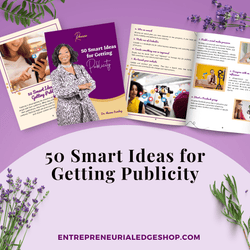 Entrepreneurial Edge Shop
50 Smart Ideas For Getting Publicity
FROM ZERO TO HERO: 50 IDEAS TO JUMPSTART YOUR PUBLICITY AND MAKE A NAME FOR YOURSELF

Do you want to take your business to the next level? With 50 Smart Ideas For Getting Publicity, you can craft a winning publicity strategy that will help you stand out and make an impact—all while growing your brand and boosting your bottom line!

Ready to kickstart your publicity campaign? Get the insider knowledge you need to succeed with 50 Smart Ideas For Getting Publicity today!

WHAT YOU'LL LEARN...

💟 Learn how to make a winning publicity strategy

💟 Maximize your reach and impact with the right media outlets

💟 Elevate your visibility to help grow your brand

💟 Harness the power of stories and storytelling

💟 Get tips on developing relationships with journalists and influencers

💟 Utilize search engine optimization for higher

WHAT YOU'LL RECEIVE...

💟 50 Smart Ideas For Getting Publicity - PDF format

This is a digital product. Nothing physical will ship.