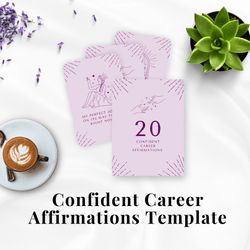 Entrepreneurial Edge Shop
Confident Career Affirmations Template
UNLOCK YOUR INNER CAREER POTENTIAL WITH THE CONFIDENT CAREER AFFIRMATIONS TEMPLATE!

The Confident Career Affirmations Template is your ticket to career success! This easy-to-use Canva template provides you with powerful affirmations that will help you tap into your inner determination and strength. With helpful actionable points and concrete examples, you'll be able to craft the perfect career affirmations for a successful journey ahead.

Take charge of your career today with the Confident Career Affirmations Template!

WHAT YOU'LL LEARN...
💟 How to craft powerful affirmations that will make a lasting impact on your career success.

💟 How to use concrete examples and action points to increase their effectiveness.

💟 The best practices for incorporating affirmations into a daily routine.

WHAT YOU'LL RECEIVE...
💟 Confident Career Affirmations Template access - PDF format

Can I edit the color palette of these templates?

Absolutely! We have made it easy for you by providing all of our templates in Canva so that you can customize them with your own unique brand colors.

Is Canva Pro required to access this template?

No, you can create a free Canva account and use this template to your heart's content.


This is a digital product. Nothing physical will ship.

Please note: The Canva templates are designed for you to use to promote your own digital product. You may not use these templates to resell as templates of your own. Refer to Canva for their terms and policies.