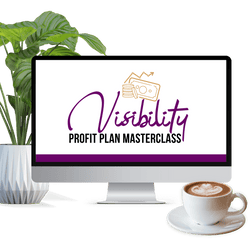 Entrepreneurial Edge Shop
Visibility Profit Plan Masterclass
IT'S TIME TO GET PODCAST READY AND MAKE THE MOST OF WHAT YOU'VE GOT!
Ready to get podcast ready and make the most of your business? Join us for the Visibility Profit Plan Masterclass today and find out how you can increase visibility, generate more profit, and open doors to new opportunities! Get ready to enter a whole new world of success with our fun, educational masterclass. Sign up now – let's get podcast ready!
Get Ready to Unlock Your Business Potential with the Visibility Profit Plan Masterclass!
WHAT YOU'LL LEARN...

💟  Learn how to get podcast ready quickly and easily
💟  Master three must-have strategies for success
💟  Discover the many doors being a Podcast Guest can open for you
💟  Create a repeatable blueprint to achieve profit goals
💟  Increase visibility without losing money, time, or your sanity
💟  Gain information on how to obtain the goals of your podcast
💟  Learn a Visibility Profit Plan that can be a game-changer for your business
💟  Get tips on how to increase visibility as a Podcast Host.

WHAT YOU'LL RECEIVE...

💟 Visibility Profit Plan Masterclass access - PDF format
This is a replay of a live masterclass.

This is a digital product. Nothing physical will ship.