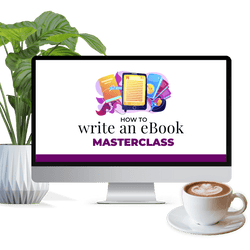 Entrepreneurial Edge Shop
How To Write An eBook Masterclass
WRITE IT. PUBLISH IT. MONETIZE IT! UNLOCK YOUR EBOOK WRITING POTENTIAL WITH THE HOW TO WRITE AN EBOOK MASTERCLASS. 
Are you ready to become an Ebook Guru? Our How To Write An Ebook Masterclass will teach you the ins and outs of ebook writing, from Brain mapping through to cover design and publishing. Sign up today and get your masterpiece out into the world!
Turn Your Writing Dreams Into Reality: Take the How To Write An Ebook Masterclass Today!
WHAT YOU'LL LEARN...


💟 What is An Ebook that Impact Others?
💟 How to Get Started Writing
💟 How to Use Brain Mapping,
💟 How To Decide on an Ebook Topic⁣
💟 What Type of Layout Works,
💟 How to Publish An Ebook

WHAT YOU'LL RECEIVE...

💟 How To Write An eBook Masterclass access - PDF format

This is a digital product. Nothing physical will ship.

This is a replay of a live masterclass